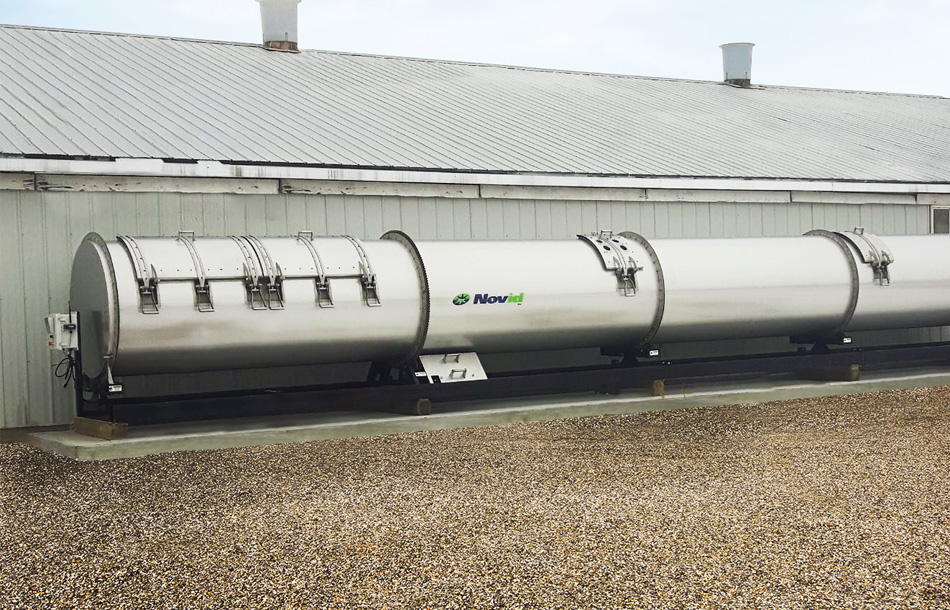 June 19, 2019
There are a number of options available to you when it comes to in-vessel composting. It can be overwhelming to find the best product for your operation. 
We've built a team with over 30 years of composting experience in design, manufacturing and technical expertise. The Novid team also has over 25 years of experience manufacturing high quality stainless steel products. The Novi-Comp is a culmination of this experience, backed by extensive field testing, resulting in a superior product built to last. 
Modular Design
The Novi-Comp is the only composter on the market with modular, interchangeable sections that allow for adaptability and growth.  As your operation increases in size, so can your composter. Available in a standard 3', 4' or 5' diameter drum, the Novi-Comp is built to suit every size operation. 
Stainless Steel Inside & Out
The Novi-Comp features a stainless steel drum, eliminating the risk of corrosion on its interior. This feature makes Novid the only in-vessel composter manufacturer that offers a 10 year warranty against corrosion on the internal drum. We understand that keeping costs down is imperative to a successful operation and proudly offer you our stainless steel product at mild steel pricing. 
Easy to Use
We have designed the Novi-Comp to be a quick and easy solution to deadstock disposal. Place deadstock into the drum, add wood chips or other organic materials commonly found on the farm (straw, corn silage, coarse sawdust, hay or grass) and turn it on. When the composting process is complete, the result is a pathogen free compost that is safe to use without causing contamination to ground water. The Novi-Comp uses a direct drive system which eliminates the need to monitor and adjust chains and belts.
Available Options
The Novi-Comp comes standard with a number of features including a 30 plus year lifespan stainless steel construction, 1/2 horse electric motor (saving you on energy costs). A stainless steel bone screen and a 220V upgrade are available as optional add-ons to your composter. 
Like all of our products, the Novi-Comp is built to endure. Making upgrades to an existing technology has allowed us to stay at the forefront of composting and our buying power allows us to offer you the best price on the market for this superior product. 
Call our sales team to find out why the Novi-Comp is right for you.