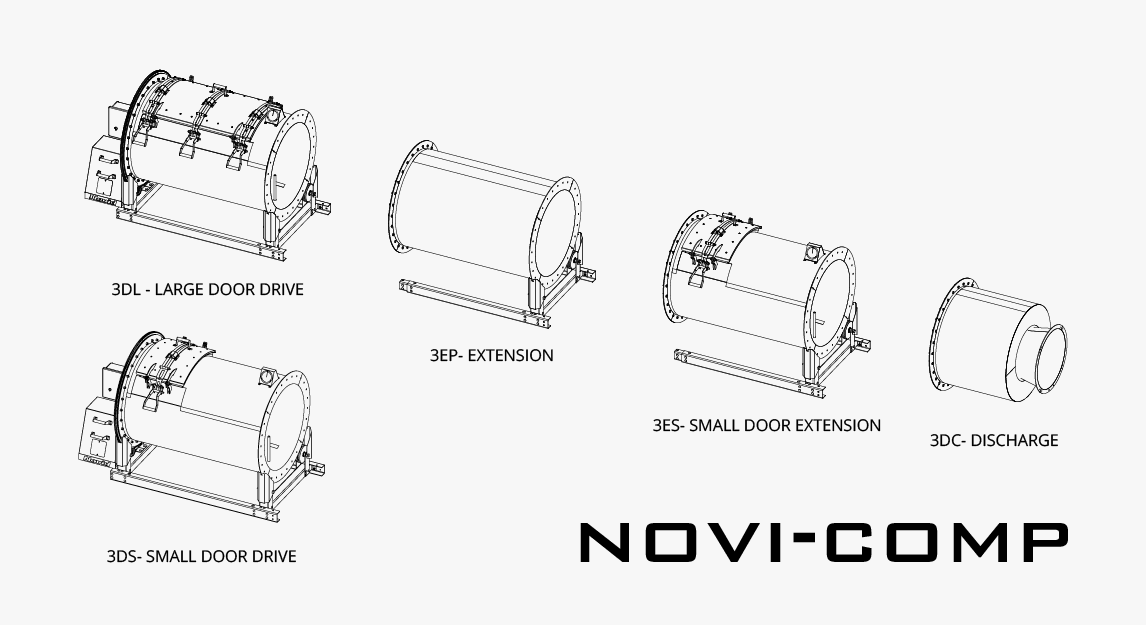 August 16, 2019
The Novi-Comp in-Vessel composter is now available in three model sizes to suit your operation. 
Construction
Developed for facilities requiring lower daily capacity volumes, the 3' Novi-Comp is patterned after the proven 4' model and engineered for lower loads with price point in mind. Its modular design allows the 3' model to extend to lengths up to 22', with a capacity from 47 lbs/ 22 kg daily to 142 lbs/ 65 kg. 
Like all of our models, the 3' Novi-Comp features stainless steel construction inside and out, and the loading section is available with either a small or large loading door. The modular design allows for quick reconfiguring with effective stainless bolt together construction. 
The durable and compact drive system keeps space requirements to a minimum, and features a 110V PLC controlled batch system.  
Advantages
The 3' Novi-Comp model is ideal for small poultry producers and organic waste clients, and allows for placement in tight areas. The batch mode setting allows clients with periods of light waste to keep the system running without continuous flow in one direction.  The unit will alternate between forward and backward rotations to act as a batch system until there is enough waste to switch the unit to continuous flow mode.
This smaller model is ideal for small poultry houses, municipal waste projects, farmers markets, restaurants, or residential/cottage subdivisions. 
If you're ready to switch to in-vessel composting, our sales team would be happy to provide you with more information on the Novi-Comp and all of the benefits it has offer your operation.