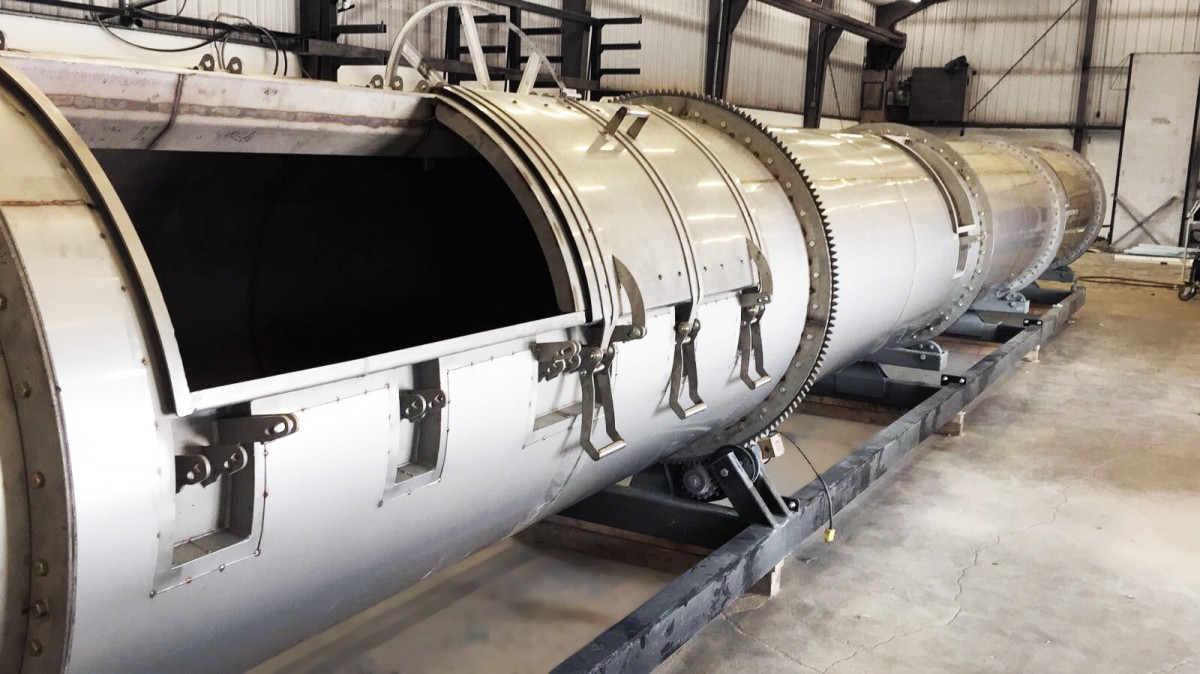 April 13, 2020
The evolution of waste management has led our designers and engineers to think about the present and future ways of decomposing organic waste. While coming up with ideas on the future of composting, we tackled weighty issues such as form, functionality, efficiency, and affordability. Weaving these features together resulted in Novi-Comp, an in-vessel composter with higher performance and better longevity.
How – Using Novi-Comp
Built to withstand the test of time, our modular in-vessel composting tank offers the ultimate solution to all compostable organic materials. Novi-Comp is changing the traditional methods of composting into a smart, cost-effective, easy and eco-friendly way. As a product, it suits producers of high volume compostable waste such as school divisions, farmer's markets, greenhouses, and small communities. But this list will be incomplete without including the agricultural industry. Both livestock and crop farming contributes a lot of compostable organic waste to our eco-system.
One of the advantages to farmers is that they can recycle their organic waste right back to the farm. By injecting back the compost back to our ecosystem, farmers do not have to spend money on fertilizers or soil enhancers to increase their yields.
The Novi-Comp Way
With Novi-Comp, you can now compost in as short as 14 days in a hygienic, odorless and eco-friendly way. Its regulated internal temperatures offer a conducive environment for good bacteria that aid in organic matter breakdown. The internal regulated temperatures also kill pathogens commonly associated with the spread of diseases.
Our commitment to engineering functional products is now helping in diverting organic waste from ending up in our landfills. This is an advantage to our ecosystem as it eliminates methane gasses that form during the fermentation and composting process. Methane is an alkane hydride that has been identified to trap heat in our ecosystem. Landfills commonly release methane as decomposition byproduct in the form of marsh gas, natural gas, hydrogen carbide, and carbon tetrahydride among others.
Novi-Comp also eliminates your shipping expenses to the landfills. These centralized landfills also charge fees when they receive your organic waste. For businesses and operations that generate a lot of organic waste, Novi-Comp is an excellent solution as it allows onsite composting hence eliminating unnecessary expenses.
Self-sustainability is one of the ways you can boost the health of our eco-system. While it is advantageous to the environment, it is also beneficial to you as you can now recycle all your organic waste back to the farm. Of higher value is that you can now earn revenues from your waste instead of paying money to get rid of them in the landfills. With Novi-Comp, you can create your own mulch, manure and soil enhancers in as short as 14 days. Instead of purchasing compost, why not make your own using a vessel specifically designed for your needs?
Our technology can also be used as a source of revenue by organizations that have more organic waste. Schools generate a lot of compostable waste such as food leftovers, waste papers, grass clippings, tree trimmings, etc. All these can be processed to make high-quality mulching and manure products that can be sold or used in school farms. It is also a practical way to teach students to become good environmental stewards. 
Build to Last
As a company, we have built our brand using quality material. Our approach to solving customers' problems is by putting a complete halt at the challenge. For this reason, we are using high standard material that is guaranteed to keep your production safe in days to come.
Other than a short composting period of time and conveniences of composting on-site, we are building a vessel that ensures product longevity. By using T304 and T316 steel, our products do not corrode the vessel walls. By solving corrosion problems, your bins will not rust and will produce high-quality compost as organic matter cannot react to the container walls. These reactions always change the chemical formula of the compost and can sometimes lead to bad odor.
It is in our tradition to back up everything we talk about with works, "we walk the talk". Novi-Comp is backed up by a 10-year warranty against corrosion on its internal drum. We understand that your investments should be accompanied by peace of mind and that is what we deliver. We are proud to be the only in-vessel composter manufacture offering a decade worth of warranty because we truly believe in our products.
Composter that Grows with Your Operations
No matter the size of your operation, Novi-Comp got you covered. Our products are designed with the future of your operations in mind. We understand that organization growth is inevitable and every growth results in more compost to be managed. We have solved this challenge for you with our modular in-vessel composter.
Our modular in-vessel composter creates room for flexibility when your operation grows. We have product features that make it easy for you to add modular sections in the future to accommodate your business' or organization's expansion without any inconveniences.
With over 25 years of experience in engineering and quality product production, our top priorities are form, functionality, and affordability. Novid Inc. makes sure that your composter will do the job, has got the aesthetics to accentuate your compound and above all, its affordability.
Novi-Comp offers more than the advantages listed on this blog. Would you like to know more about the evolution of waste and how our product can help you transform your waste management system? Signup for our newsfeeds or contact us directly using our email or phone number below.